Shining brightly in our CA58 is the award-winning legacy of the "Concert Artist" line of Kawai digital pianos. Advanced features, such as our exclusive amplifier technologies and powerful multi-speaker configurations, abound in the CA58. The origin of its rich tonality is the Shigeru Kawai EX concert grand piano that was carefully sampled across all 88 keys to capture its expressive character. Our new "Grand Feel Compact" wooden-key keyboard action utilizes an ideal combination of materials, mechanics and motion to recreate the unrivaled touch and responsiveness of a fine grand piano. Sound categories, control functions, and instrument settings are easily accessed from the control panel buttons located conveniently on the keyboard side panel with large LCD display. Connect the CA58 with other devices via MIDI and USB, plus integrated Bluetooth® MIDI (wireless), to expand musical capabilities even further. Record, playback, and share WAV or MP3 files to enhance the playing experience. Unsurpassed musical flexibility and expression are made possible with Kawai's CA58.
PRODUCT HIGHLIGHTS
Grand Feel Compact Wooden-Key Keyboard Action
Ivory and Ebony Touch Key Surfaces, Triple-Sensor, Let-off, Counterweights
Harmonic Imaging XL Sound Engine with 88-Key Sampling
SK-EX and EX Concert Grand Piano Sounds
Cheek-block Control Panel
Integrated Bluetooth® MIDI Wireless Technology
MP3/WAV/SMF Playback, Record, and Overdub MP3/WAV to USB
Spatial Headphone Sound for Enhanced Depth and Realism
256 Polyphony (max.)
Grand Feel Pedal System
FEATURES
The CA58 Concert Artist offers a highly detailed acoustic portrait, with Harmonic Imaging XL technology ensuring smooth tonal transitions across the keyboard and throughout the entire dynamic range.
Embracing many of the long-established principles associated with an acoustic piano, the Grand Feel Compact keyboard action utilized by the CA58 Concert Artist combines realistic materials, motion and mechanism to recreate the exceptional touch of our finest concert grand pianos.
The CA58 Concert Artist is equipped with modern USB connectors that not only allow the instrument to be connected to a computer for MIDI use, but also to load and save data to USB memory devices directly. USB memory devices can also be used to play back MP3 or WAV audio files.
Supplementing the beautiful acoustic piano voices, the CA58 Concert Artist also features an excellent selection of additional sounds, ranging from electric pianos and drawbar or church organs, to strings, human choirs, and synth pads, inviting musicians to add greater variety to their performances.
A skilled piano technician can personalize an acoustic piano's sound and touch response. Kawai's exclusive Virtual Technician does the same for the CA58 digital piano.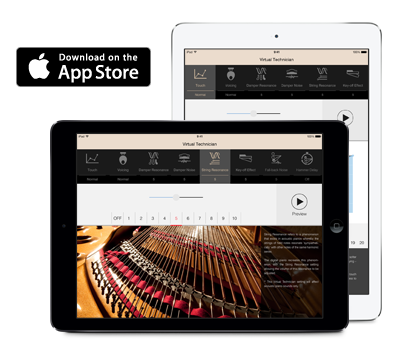 The CA58 features three pedals – soft, sostenuto, and damper (with half-damper capability). The new Grand Feel Pedal System reproduces the individual weighting of each of the three pedals of the Kawai EX concert grand.
In addition to USB, the CA58 has other useful jacks including 2 headphone jacks, MIDI connections and audio input / output jacks for connecting to sound equipment and recording systems.
SPECIFICATIONS
Keyboard

Grand Feel Compact action



- 88 wooden keys
- Grade-weighted hammers
- Ivory Touch white key surfaces
- Let-off simulation
- Triple sensor key detection
- Bass region counterweights
Pedal

Grand Feel Pedal System



- Damper (with half-pedal support)
- Soft
- Sostenuto
Piano Sound

Harmonic Imaging XL (HI-XL)



- 88-key stereo sampling
- SK-EX, EX recording
- 256 note maximum polyphony
Piano Resonance

Acoustic Rendering



- Damper Resonance
- String Resonance
- Undamped String Resonance
- Cabinet Resonance
Piano Adjustment

Virtual Technician (19 parameters)



- Touch Curve (incl. User Touch Curve)
- Voicing (incl. 88-key User Voicing)
- Damper Resonance
- Damper Noise
- String Resonance
- Undamped String Resonance
- Cabinet Resonance
- Key-off Effect
- Fall-back Noise
- Hammer Delay
- Topboard Simulation
- Decay Time
- Minimum Touch
- Stretch Tuning (incl. 88-key User Tuning)
- Temperament (incl. User Temperament)
- Temperament Key
- Key Volume (incl. 88-key User Key Volume)
- Half-Pedal Adjust
- Soft Pedal Depth



Virtual Technician Smart Mode (10 presets)

No. of Sounds
42 voices
Reverb
6 types
Brilliance
✔
Other Effects
24 types
Speakers
13 cm x 2
(8 x 12) cm x 2
Output Power
100 W (50 W x 2)
Headphone Enhancements
Spatial Headphone Sound
Headphone Type
Display
128 x 64 pixel LCD with backlight
Key Cover
Sliding type
Music Rest
Collapsible type (3 angle adjustability)
Dimensions
Width
57 1/3" (145.5 cm)
Depth
18" (45.5 cm)
Height
36 1/2" (92.5 cm) (not including music rest)
Weight
161 lbs (73 kg)
Available Finishes
Premium Satin Black (CA58B)
Premium Satin White (CA58W)
Premium Rosewood (CA58R)
Basic Functions
Dual
Split
Four Hands
Transpose
Tuning
Registration
Startup Setting
Internal Songs
Sound Demo
32 songs
Piano Music
42 songs
Concert Magic
176 songs
Lesson Songs
Burgmüller 25 (25 Etudes Faciles, Opus 100)
Czerny 30 (Etudes de Mécanisme, Opus 849)
Czerny 100 (Hundert Übungsstücke, Opus 139)
Beyer 106 (Vorschule im Klavierspiel, Opus 101)
J.S. Bach: Inventionen
Sonatinen Album 1
Chopin Walzer (Chopin waltzes series)
Alfred's Premier Piano Course Lesson 1A
Alfred's Premier Piano Course Lesson 1B
Alfred's Basic Piano Library Lesson Book Level 1A
Alfred's Basic Piano Library Lesson Book Level 1B
Alfred's Basic Adult Piano Course Lesson Book Level 1
Internal Recorder
Total Memory
approximately 90,000 notes
No. of Songs
10 songs
Parts
2 parts
Metronome
Time Signatures
1/4, 2/4, 3/4, 4/4, 5/4, 3/8, 6/8, 7/8, 9/8, 12/8
Drum Rhythms
100 patterns
Bluetooth® *
Bluetooth® (Ver. 4.1; GATT compatible)
Bluetooth® Low Energy MIDI Specification compliant
USB Audio Recorder
Record
MP3
WAV
Playback
MP3
WAV
SMF
Other Functions
Overdubbing
Line In recording
App Functions
Virtual Technician app (iPad), Sound Museum app (iPhone/iPad)
Connector Jacks
Headphone
1 x 1/4", 1 x 1/8" Stereo jacks
MIDI
MIDI IN, MIDI OUT, Bluetooth® MIDI
Line Out
1/4" L/MONO, R (with volume adjust knob) [unbalanced]
Line In
1/8" Stereo (with volume adjust knob) [unbalanced]
USB to Host
✔
USB to Device
✔
Others
-
Power Consumption
45 W
Power
Power cable
Bench
Matching Storage Bench
Headphones
Headphone hook
Sheet Music
Finger Exercises Only
Others
Warranty Card
Owner's Manual
Hymn Player Manual
Internal Song List
WARRANTY
Kawai CP, CA, CS and CN Series products:
Customers should retain their store receipt or purchase statement as proof of the date of purchase. Please contact Kawai's Technical Services Division if you have any questions or concerns, or to request a copy of your new warranty.
Visit us, message, or call a piano expert today, for more information and to get more info. With over 80+ years of experience, we have the expertise to help you find the perfect piano or keyboard.
Complete package qualifies for financing. Delivery and/or service fees vary and are based on location and logistics. For more information on delivery and service fees, please contact Alamo Music Center for a quote. Delivery and service promotions are applicable at times. Extended warranty plans are also available. Please note that the online shipping calculator is not applicable.
This instrument has been thoroughly inspected by our service department and maintained to ensure it is sold in optimal playing condition. It includes a 90-day full-service warranty with purchase and will be tuned before delivery. Additional service plans are available at the time of purchase.